With our more than 15 years of experience has helped us continue to offer some of the best IP phones in the world, with the latest example being our GRP series of Carrier-Grade IP Phones. The GRP2600 series are next-generation IP phones that are designed for mass deployment by enterprises and services providers, making them a powerful and reliable option for small-to-medium businesses as well. They feature sleek designs, a seamless user experience, available Wi-Fi and Bluetooth, zero-touch cloud provisioning and much more.
This GRP series Buyer's Guide provides a streamlined tool to help you get the most popular IP from the GRP series. It walks you through building a modern, powerful voice network, highlights the many GRP features that make them the ideal choice for your deployment, and helps you chose the right GRP model for every need.
The Modern IP Phone
While the demise of the desktop phone has been a popular topic for a few years now, it continues to be a staple of telephony and unified communications deployments. Even as cloud platforms with mobile and desktop apps become popular, the global IP desktop phone market continues to thrive. Desktop phones are central to the way many businesses operate and a familiar and reliable tool for staff. They are central to the way we've all become accustomed to communicating and provide the most reliable and dedicated portal for voice communication.
In order to remain a reliable and effective tool now and into the future, the IP phone has evolved in recent years through a variety of improvements and enhancements. As a result, the modern IP phone is easier than ever to deploy while being packed with features that make them more useful than ever. Many modern IP phones offer Wi-Fi and Bluetooth, feature sleek designs, include many customization options, and provide seamless user interfaces. Maybe of most significance, the modern IP phone is simple to deploy and manage thanks to cloud provisioning and management platforms.
Target Markets for IP Phone Deployments
Service Providers
Business service providers are one of the largest deployers of IP phones. Many offer packages that include IP phones and other SIP endpoints in order to provide turnkey solutions for business customers.
Enterprises & Large Businesses
A voice network is a critical part of any enterprise communication solution. As large organizations become more dispersed and require more mobility both in the office and remotely, IP phones that support mobility and provide next-generation tools to keep in touch will be in demand.
Small-to-Medium Businesses
SMBs rely more on voice than almost any other sector. Not only is SIP/VoIP an extremely cost-effective communication solution, but it now offers a platform to easily add video, surveillance, facility management, remote solutions and more.
Hospitality
Think about it – have you ever had a hotel room that did not have a phone in it? The answer should be no. Most countries have laws requiring all hotel rooms have phones in them. Not only that, they provide for easy communication with guests, integrate with property management systems, and offer a guest service.
Education
Having a phone in every classroom, and for all administrative staff, provides a critical security protocol but also an easy way for teachers to keep in touch with other staff throughout the building. IP phones are a central part of most deployments in the education sector.
Healthcare
Voice solutions will always be a major part of the way any healthcare facility operates. Whether they are used to communicate with patients or with staff in the facility itself, IP phones are required for every healthcare facility. Most patient rooms within any medical facility will have a phone in it.
Considerations for Building an IP Phone Solution
1. Setup, Provisioning and Management
The power of cloud provisioning and management platforms allows modern IP phones to be deployed without having to touch each phone, provides centralized management and makes customizing devices easy. Grandstream provides the Grandstream Device Management System (GDMS) to provide all of that and more. We will tell you more about GDMS later, but let's take a look at how cloud management has made deploying IP phone quick and easy.
2. On-site Network Infrastructure
There are 3 important factors of the local network that will determine the phones you will want to consider:
Is the network wired, Wi-Fi, or a mix of both?
While most deployments rely on wired networks, VoIP-over-Wi-Fi networks are becoming commonplace as Wi-Fi speeds match wired speeds. Even if you may not need Wi-Fi-capable IP phones now, there is a good chance you will in the near future. The GRP series includes a selection of Wi-Fi capable models that can easily be deployed on Grandstream's range of GWN Series Wi-Fi Access Points.
What is the capacity of the local network in terms of speed?
If the local network supports speeds over 100Mbps and the voice solution will be often relied upon, we suggest deploying phones with Gigabit connections to support up to 1000Mbps. That will allow you to take advantage of the full power of the network and ensure the highest quality of voice communications.

Will you have PoE access where the devices will be installed?
Will there be access to a PoE switch – or are you able to add one? PoE is an efficient way to provide both a connection and power through one cable, simplifying the installation, but it might not be ideal for every location depending on facility layout. If you are using PoE, you will need to make sure the phones you use support it.
3. Select the Ideal IP Phone for Each User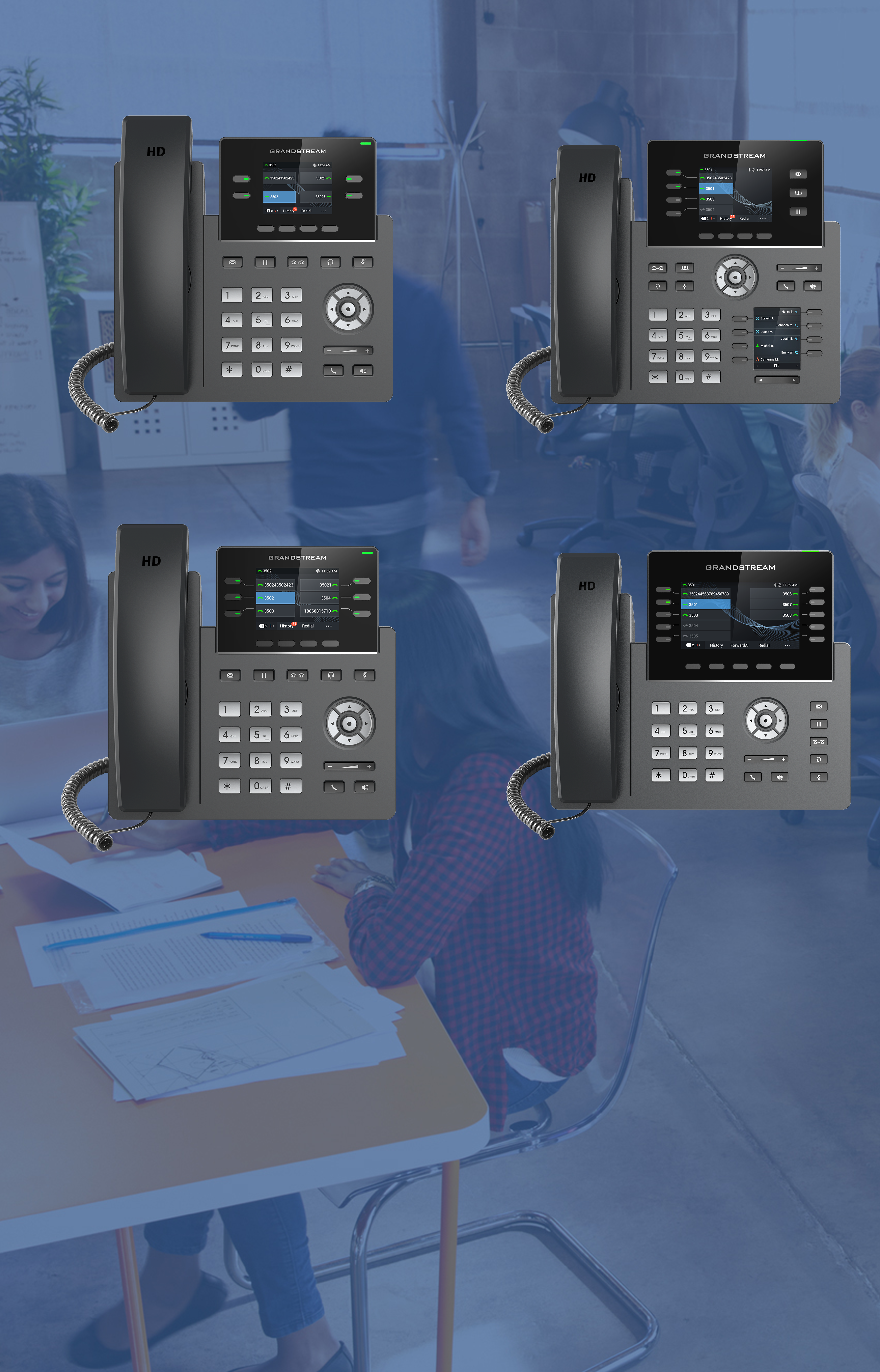 Call Volume
Does the user make and receive a lot of calls, or are they on the phone occasionally? Frequent users will benefit from a higher number of lines and SIP accounts to handle numerous calls simultaneously.
Call Activity
Does the user regularly communicate with many people? Does the business want presence on their voice solution? if yes, you will want phones with higher numbers of BLF/speed-dial keys and/or extension modules. Are they transferring calls and putting calls on hold? If so, having access to more lines is helpful.

Connection Type
Wired or Wi-Fi? If wired, does the business' service plan provide speeds over 100Mbps? If yes, you will want phones that support Gigabit speeds for more active users. If Wi-Fi is in use, make sure to choose IP phones that support dual-band Wi-Fi.
Mobility
Will the phone be moved around between different locations in an office? Will an employee be taking it between their office and home? Wi-Fi-compatible IP phones provide a great solution for mobility, but if you stick with a wired connection, PoE is recommended to eliminate the need for a power supply.
Headsets and Speakerphones
Most users will want the option to use a headset, so make sure the IP phones you chose are compatible with their preferred headset. RJ9 has historically been the most utilized protocol and allows for use with EHS wireless headsets, but USB and Bluetooth are now mainstream.
Interested in learning how to buy?
Contact us below or us at +65 6816 3006